Chris Godinez ,​ ​Esq.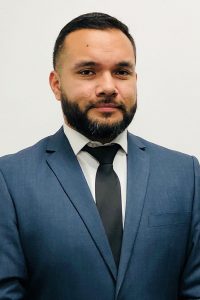 Chris Godinez was born and raised in the San Fernando Valley. He graduated from the University of California Los Angeles with a Bachelor of Arts in English Literature and a certificate in teaching English as a second/foreign language. Mr. Godinez taught grammar and conversation to foreign adults at the English Language Center in Westwood, CA before leaving to San Diego to pursue his Juris Doctor at Thomas Jefferson School of Law.

While at TJSL, Mr. Godinez participated in the Small Business Law Center's Art & Entertainment Law project, where he assisted artists and musicians in securing copyright protection in their creations. He was an editor for the Thomas Jefferson Law Review. His student note—Painting Over VARA's Mess: Protecting Street Artists' Moral Rights through Eminent Domain—was selected for publication in 2014. See 37 T. Jefferson L. Rev. 191 (2014).

During his second and third year of law school, Mr. Godinez interned with the San Diego Public Defender's Office. He was one of eight candidates selected to participate in the San Diego Public Defender's Post-Bar Clerkships. Mr. Godinez graduated second in his class with summa cum laude honors. Mr. Godinez has practiced criminal defense since being admitted to the California state bar in 2016. He has experience handling a broad range of cases, including misdemeanors and serious/violent felonies.